"It was at Cannes that we saw the first oranges.

'That does it,' I said to Myra. 'We're really here. And look, there's a lemon tree. Give me the oranges and lemons and you can have all the palms and the cactuses and the olives.'

'Like polar bears in the arctic region,' said Myra.

I thought for a moment. Superficially there is very little resemblance between an orange and a polar bear.

'Like polar bears,' I said hopefully.

'I mean,' luckily she went on, 'polar bears do it for you in the polar regions. You really know you're there then. Give me the polar bears, I always say, and you can keep the seals and the walruses and the penguins. It's the hall-mark.'"
Source: Punch, or the London Charivari, Vol. 146, March 18, 1914, by Various, Edited by Owen Seaman.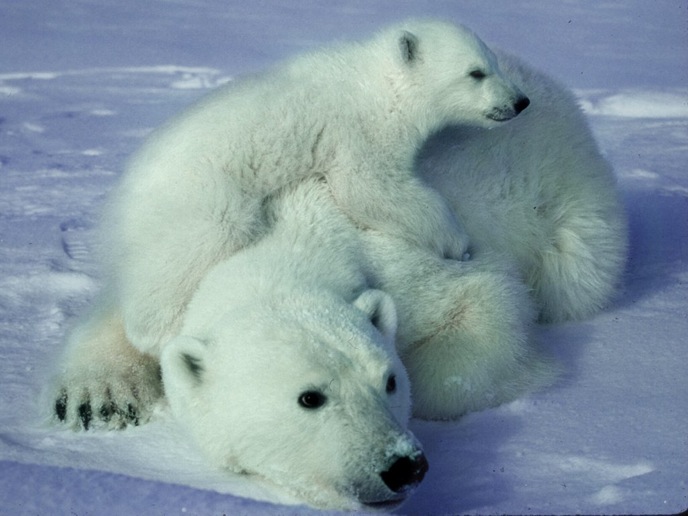 Polar Bear with Cub
Image Source: Scott Schliebe, U.S. Fish and Wildlife Service.

Available in two sizes:
1024 x 768 || 800 x 600
"'I guess doodle-bugs is like South Polar bears,' he said.

'How is that, my dear sea-faring friend?'

'There ain't any,' laughed Ben...."
Source: The Boy Aviators' Polar Dash, by Captain Wilbur Lawton



Image Source: Elizabeth Labunski, U.S. Fish and Wildlife Service.

Available in two sizes:
1024 x 768 || 800 x 600
Source:
Polar Bear FAQ

Image Source: / License under Creative Commons 2.0

Available in two sizes:
1024 x 768 || 800 x 600
Fact: "The seal is a particular favourite with [the polar bear], and he hunts this creature with skill and assiduity. When he perceives the seal basking upon a ledge of ice, he slips quietly into the water, and swims to leeward of his intended victim. He approaches by frequent short dives-so calculating his distance, that at the last he comes up close to the spot where the seal is lying. Should the victim attempt to escape, by rolling into the water, it falls into the bear's clutches: if, on the contrary, it lies still, the bear makes a powerful spring, seizes it on the ice, and then kills and devours it at his leisure."
Source: Quadrupeds, What They Are and Where Found, by Mayne Reid